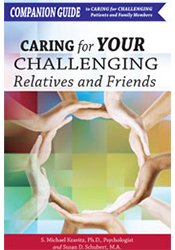 Book
$14.99 USD
$2.99 USD
Printable Order Form
Caring for Your Challenging Relatives and Friends
Companion Guide
Designed both as a stand-alone as well as a COMPANION to the book, Caring for Challenging Patients and Family Members, this convenient GUIDE is portable and easy to use. While each book is useful independently, taken together, they create a comprehensive compendium for care giving. The GUIDE includes real-life situations, assessment tools, tips and assessments as well as strategies for addressing the following challenging topics:
Complex situations involving several illnesses that impact multiple people
Isolation and loneliness due to loss of peers and distance from children
The patient's resistance to treatment and self-management
Emotional conflicts between the caregiver and patient

Why is this topic important now?
Everyone expects to engage in the care giving process accompanied by a plethora of worries including their own aging-related illnesses. Driven by an aging population, increased health care costs, Medicare uncertainties, scarce resources and burgeoning insurance premiums plus the increased life expectancy rate, challenges mount exponentially. The number of caregivers has more than tripled over the past 15 years. That increase reflects medical advances and the resulting increase in human longevity.

Who will benefit?
The GUIDE is targeted principally for personal healthcare givers as well as the people who need assistance. In addition, professional healthcare providers can provide this book for their patients and families.

What can you expect to gain?

Understand why your relative or friend is challenging
Apply adaptive approaches to facilitate care giving and relationships
Create supportive networks to overcome everyone's isolation
Care for yourself by applying protective and proactive stress management tools
Determine when it's time to get help for yourself, your family member or friend
Utilize emotional intelligence to manage both positive and negative emotions
Recognize behavioral and cognitive changes that signal a need for medical intervention
Know when and how to intervene when a friend or relative seems to be in danger
Become better informed with relevant resources