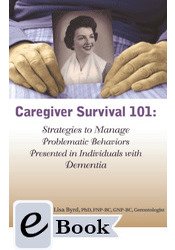 Book
$9.99 USD
Printable Order Form
Caregiver Survival 101
Strategies to Manage Problematic Behaviors Presented in Individuals with Dementia
Dementia can be debilitating and life-altering – not only for the person with the disease, but also for family members and caregivers. This book was written to help these caregivers and family members better understand dementia and its effects, so they can proactively avert or lessen problematic behaviors while maintaining a climate of respect and compassion.

The management approaches presented are based on research and best practices, as well as the author's personal and professional experiences. She provides unique insights into the causes, presentations, diagnosis, and management strategies for the various dementias, including Alzheimer's disease.

Through the poignant and personal story about her mother, who was diagnosed with dementia and passed away in 2009, the author shares three very important lessons:


Dementia is a devastating physical, as well as psychological, disease which affects every person differently.
Caregivers ultimately have no control; they can only strategically manage events in an attempt to lessen the problems brought on by dementia.
Patience and understanding are the keys to caregiver survival.